Controversial Hanging on the Rim Technical Costs Team Ohio State Championship (Video + GIFs)
If you like debating controversial sports plays with friends and co-workers, we've got a good one for you.
On Saturday, at the Ohio High School Athletic Association boy's basketball Division II championship game, Cleveland Central Catholic took a four-point lead over Defiance High School with only 45 seconds left to play thanks to an authoritative dunk by Antwon Lillard. However, Lillard hung on the rim for a second afterward, swinging his legs forward and then back again before letting go. And hanging on the rim is illegal unless a player feels he must hang on because he cannot land safely.
Unfortunately for Antwon Lillard, the referees didn't think he needed to hang on the rim. So they issued a technical foul. Defiance then hit both free throws and scored on the ensuing possession to send the game to overtime, where they outscored CCC 10-6 to win their first state championship in 75 years.
So let's debate. First, take a look at the play from a couple of different angles: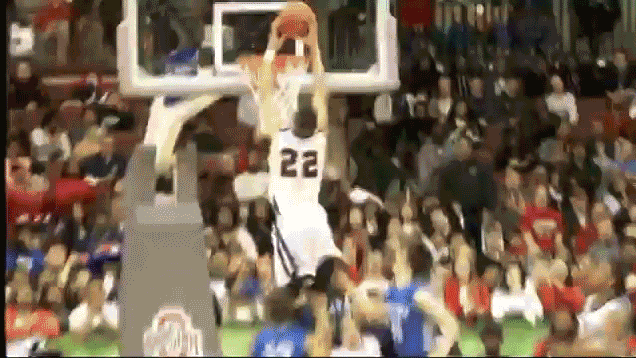 After the game, Cleveland Central Catholic coach Jeremy Holmes indicated that Lillard said he didn't feel safe with people underneath him. However, Lillard himself had a slightly different explanation. In it, he said nothing about people underneath him:
"I got to the rim so fast, I wasn't going to be able to land. It was kind of difficult for me. As I swung on the rim, it was kind of difficult for me to come down. I didn't want to tweak an ankle or tear something."
To me, it's hard to see why Lillard felt he had to hang on to the rim. His arms were fully extended, and nobody was underneath him. He could have just dunked the ball and come right down. It was only after he grasped the rim that his legs swung forward.
Verdict: good call. Unfortunate, but fair.
Hat Tip – [Deadspin, Cleveland.com]
Tags:
Comments