13 Heroic Sideline Reporters Hit by Balls in the Line of Duty
What sports fans don't have a good laugh when they see sideline reporters hit by balls? Comic relief is pretty much the only thing sideline reporters are good for.
That's not to say sideline reporters aren't talented journalists. Some of them definitely are. But it is to say their job is silly. The only thing they do is ask obvious, cliched questions to coaches, who in turn give them obvious, cliched answers. "Coach, what do you need to do to turn things around in the second half?" "Well, we need to play as a team, tighten things up on defense, and put a few more points on the board." Thanks for the insight, guys.
Of course, back in the day, sideline reporters used to give us insights into what the game is actually like on the field. And that was cool. But now we have helmet cams and goal cams and ref cams and butt cams—cams literally everywhere. Who needs sideline reporters when we can see it all for ourselves?
So yeah, point is, sideline reporters give us, the fans, very little information we actually need or want. But at least they give us joy when they get whacked in the head by a stray ball. And today we're going to take a look at 13 such sideline reporters hit by balls in the name of journalism.
Let's get to it.
Cavaliers reporter Allie Clifton probably didn't suffer any permanent neurological damage from this one, which happened back in November 2013. I was still amusing, though. After all, we all saw the ball bounce off the top of her head. It's cool to be a pro and shake it off, but don't pretend like that didn't just happen! That's just weird.
13. Allie Clifton (Fox Sports Ohio)
One of the dangers of my job..getting hit by an errant throw from @JoeyBats19 . #bluejays pic.twitter.com/ypVww9OGi1 — Barry Davis (@SNBarryDavis) March 10, 2015
Sometimes it's funnier when you don't actually see the ball, but just the reporter's reaction. Such is the case with this one. Sportsnet's Barry Davis was doing a report on the Blue Jays live from Spring Training back in March when an errant throw by Jose Bautista whacked him good off camera. Haha, Barry Davis. Your pain makes us laugh.
12. Barry Davis (Rogers Sportsnet)
Fun fact: the
MLS
has
reporters
. Who knew? This one is Kelli Tennet. She covers the LA Galaxy for TWC SPortsNet, and in April 2014 she got clobbered by a ball, producing this hilarious Vine.
11. Kelli Tennet (TWC SportsNet Los Angeles)
Yep, another MLS reporter getting smacked on the head by a soccer ball. This time it's Seattle Sounders reporter Jackie Montgomery, who took a ball to the side of the head in May 2014, just one month after our last entry. It's like I alway say, those who don't know their own history are doomed to get hit in the head by soccer balls.
10. Jackie Montgomery (Seattle Sounders)
Sometimes you drop the mic. Sometimes it gets knocked out of your hands by a foul ball. Unfortunately for Fox Sports Wisconsin's Sophia Minneart, in May of 2013, it was the latter. (PS, while looking up Ms. Minneart on the intergoogles, I also came across
this video
of her getting videobombed by Benny the Bull. It has absolutely nothing to do with this list, but it's great and you should definitely watch it.)
9. Sophia Minneart (Fox Sports Wisconsin)
Now you wanna talk about a pro? Sportsnet's Ian Mends is a pro. The guy was getting ready to do a live shot on the field before a game at the 2012 World Series when he got whacked in the back of the calf by a ball. However, he sucked it up just in time and did his report like nothing was wrong. Like a boss.
8. Ian Mendes (Rogers SportsNet)
This one has been floating around the internet for a long time. Unfortunately, I could not discover her name. All I know is that she's a Romanian sideline reporter, she is very attractive, and a ball bounced of her head some time in 2009. Of course, what more do you really need to know?
7. The Unknown Romanian Sideline Reporter
Ian Rapoport isn't so much a sideline reporter as he is a sideline puppet of the NFL's propaganda machine who reports exactly the things they tell him to report. But he seems like a nice enough guy, and his reaction to a football hitting him the face back in October 2012 was still pretty great.
6. Ian Rapoport (NFL Media)
If you're going to stand right between the benches at an NHL game, you'd better not be wiling to take a few stitches. Luckily, NBCSN's Brian Engblom is himself a former NHL defenseman, so when he took a puck to the forehead earlier this week, it barely phased him. He just had his gash sewn up and got back to work.
5. Brian Engblom (NBCSN)
Unlike Brian Engblom, Rangers reporter John Giannone is not a former NHL player. However, he proved back in February of 2013 that he's almost as tough as a hockey player. The guy took a puck to the face that opened up a real gusher, but he kept right on reporting like nothing happened.
4. John Giannone (MSG)
Now this one is a classic. Back in August 2010, Sky Sport Germany reporter Jessica Kastrop was doing a report down on the field before a game between Bayer Leverkkusen and Hoffenheim when a ball came sailing in from about 40 yards away and whacked right on the top of the head. She became a viral sensation about 10 seconds after impact. In this video, first you see the original footage. Then you see the broadcast from the following week, in which they show the incident again in slow-motion before cutting to Kastrop, who's ready to do a report down on the field while wearing a rugby scrum cap as a joke.
3. Jessica Kastrop (Sky Sport Germany)
That's right. It happened to Kastrop again in March 2014. It wasn't nearly as dramatic, but given her history with getting hit in the head by balls, it was still pretty funny.
2. Jessica Kastrop...Again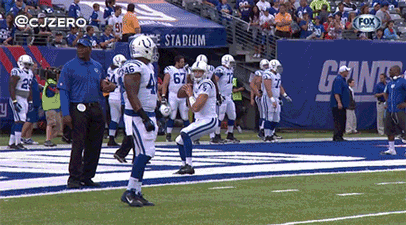 Taking the top spot in our list is Pam Oliver, who got destroyed by a tight spiral from Colts backup QB Chandler Harnish. Of course, I feel bad that I find this so amusing. Pam Oliver got a freaking 
concussion 
from this. She had to spend
five days in a dark room
dealing with splitting headaches! That sucks. However, the GIF is just so fantastic. The way the camera follows the majestic arc of the ball until it makes impact, and Oliver's perfectly coiffed hair explodes in all directions? It's beautiful—like watching a lion take down a water buffalo in super slow motion on National Geographic. Only funnier, because people getting hit in the face by balls is funny. Sorry to make light of your pain, Pam. But this is amazing.
1. Pam Oliver (Fox Sports)
Tags:
Comments