Jerome Boateng Memes Flood Internet After Bayern Defender Gets Humiliated by Messi (Pics)
Lionel Messi was not his usual superhuman self last year. He only scored 41 goals for FC Barcelona in 2013-14, which is…well, still insanely good for anyone else, but kind of pedestrian for the Argentine superstar.
Messi hasn't been pedestrian this year though. And he certainly wasn't pedestrian during the first leg of the Champions League semifinals between Barcelona and Bayern Munich on Wednesday. Just ask Bayern defender Jerome Boateng, who got his ankles shattered on Messi's 53rd goal of the season—a tally that will go down as one of the most memorable in the history of the game.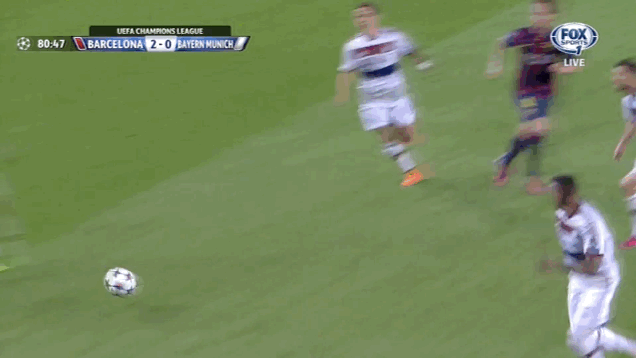 Understandably, the internet absolutely lost its shit when it saw that.
Take a look at these Jerome Boateng memes and have a laugh at his expense:
Otra perspectiva del golazo de Messi pic.twitter.com/wqphESHPwE

— RotoChop (@RotoChop_) May 6, 2015
Boateng be like: But let me take some sleep first. pic.twitter.com/KpZ1iql7eu

— Troll Football (@Troll__Football) May 6, 2015
Jerome Boateng… pic.twitter.com/n2YoGrmd4w

— The Football Bible (@Futbol_Bible) May 6, 2015
#Boateng : "dramatic night in Barcelona" [1988 † 2015] pic.twitter.com/WzQnoktq8j

— Somar (@SOMAR009) May 6, 2015
Prey for Boateng pic.twitter.com/CAYXoha3q4

— Stefan Brown (@StefanBrown4) May 6, 2015
Could take a while for Jerome Boateng to get those legs untangled… #Messi pic.twitter.com/zSiyW2FpIT

— Mark Donaldson (@DonaldsonESPN) May 6, 2015
Let's have a closer look at the state Messi's left Boateng in here pic.twitter.com/3UPIxz7NFe

— Brenzie (@Brenzie) May 6, 2015
Boateng right now… pic.twitter.com/eiQQyWWsAA

— Footy Jokes (@Footy_Jokes) May 6, 2015
SPOTTED: Jerome Boateng on his way to training this morning… https://t.co/6RBLzlhaFv

— BreatheSport (@BreatheSport) May 7, 2015
Quand #Boateng est face à #Messi. #BARBAY #GIF #UCL #LDC pic.twitter.com/KpQoLnalHk

— Vincent Pereira (@VincentPereira1) May 6, 2015
Boateng pic.twitter.com/QA1dUrnhDn

— Mohamed Amin (@aypappii) May 6, 2015
Lo que realmente sucedio con #Boateng #Messi #Cadera #KO #CampNou #MetaBerlin #Semifinal #Genio pic.twitter.com/5IX1a2AEo9

— Andres (Delko) (@ElAndrescruz) May 7, 2015
Boateng's Wikipedia page was also trolled last night. pic.twitter.com/8xUbA83IjF

— Eurosport.com (@EurosportCom_EN) May 7, 2015
BREAKING: Lionel Messi with a message to Manuel Neuer. pic.twitter.com/0R9qPjLxsF

— BBC Sporf (@BBCSporf) May 6, 2015
Congratulations to Jerome Boateng on becoming a meme.

— James Maw (@JamesMawFFT) May 6, 2015
Don't worry, Jerome. At least you won the World Cup last year.
Tags:
Comments