Joe Rogan Calls Kimbo Slice-Ken Shamrock Fight at Bellator 138 "Fake as F**k" (Videos)
On Friday night at Bellator 138, Kimbo Slice took on Ken Shamrock in the most predictable MMA fight of the year.
Slice, the 41-year-old former YouTube street-fightin' legend, is the Harlem Globe Trotters of combat sports. You tune in to his fights to see him knock somebody the f**k out. Period. You don't expect to see a "good fight."
Shamrock, the 51-year-old former UFC Heavyweight Champion, has parlayed his status as one of the first true MMA superstars into a "successful" career as a tomato can. For the last decade, he's been signing up for fights he has absolutely no chance of winning, taking beatings to pay the bills.
So everybody knew Ken Shamrock was going to get knocked out by Kimbo Slice. The only question was whether they would make it interesting.
So did they? Well, if "comically terrible" counts as "interesting," then yes, absolutely.
Take a look:
There was nothing fake about that knockout: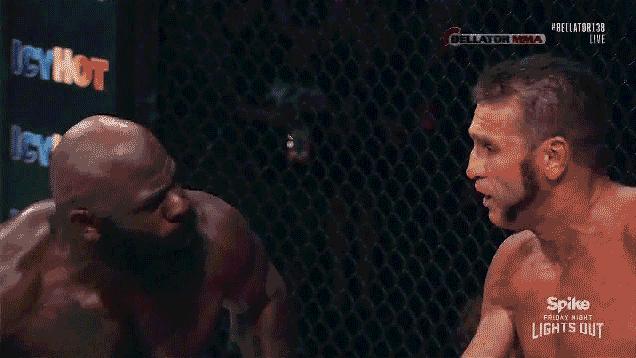 But the rest of it? I'll let UFC commentator Joe Rogan take it from here:
Like I said, the outcome of this fight was not surprising. But this wasn't South Florida FightFest 3, Montana BareKnuckle Battlez 7, or some other smalltime promotion. This was the main event at Bellator 138. I would have expected a little more from them.
Hat Tip – [MMA Mania]
Tags:
Comments