Must See: Omar Infante and Alcides Escobar Team Up for the Play of the Year (Videos)
Offense is cooler than defense. That's true of pretty much every sport, including baseball. That's why they say "chicks dig the longball," not "chicks dig the short-hop pick."
There is one exception to the rule, however. And that exception is the Kansas City Royals. They make defense cool.
Last year the Royals made it all the way to Game 7 of the World Series thanks to ridiculous catch after ridiculous catch. This year they have ridden their defense to the best record in the American League.
On Tuesday night in Cleveland, Omar Infante and Alcides Escobar teamed up for what will probably go down as the play of the year.
The Royals were up 2-1 in the bottom of the ninth with nobody on and nobody out when the Indians' Roberto Perez hit a ground ball just to the left of second base. It looked like a surefire hit. Escobar wouldn't get to the ball, and though Infante probably could, there was no way he was going to be able to turn around and throw Perez out at first.
That's when things got crazy. Infante managed to make a backhanded stab, but instead of trying to throw to first he used his glove to flip it to Escobar, and he nailed Perez at first.
Take a look: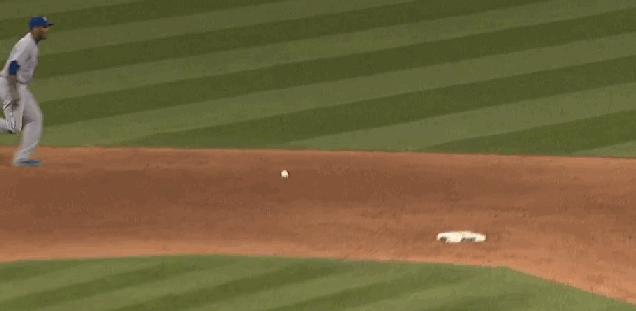 I've said it before and I'll say it again: the Royals are the most entertaining team in Major League Baseball.
Tags:
Comments