This Travis Kelce Touchdown Celebration Was Easily the Best of Week 1 (Video + GIF)
The Kansas City Chiefs got off to as good of a start as they could have hoped for against the Houston Texans on Sunday. They led 14-6 after one quarter and 27-9 after two. The only reason the game looks as close as it does on paper (final score 27-20) is because the Chiefs gave up 11 points in four-quarter garbage time.
So what was the highlight of the day for KC? Well, some might say it was Alex Smith throwing for 243 yards, three touchdowns, and a 118.6 passer rating, looking once again like a guy the 49ers should not have let go.
But others (including myself) would say it was this awesome Travis Kelce touchdown celebration. After scoring his second touchdown of the game—a 42-yard strike with less than five minutes remaining in the opening quarter—he held the ball out in front of himself and punched it in its stupid ball face.
(Yes, the ball has a face, and it's stupid.)
You can watch the video over on YouTube if you want. But there's really no need. The GIF is just as good, if not better: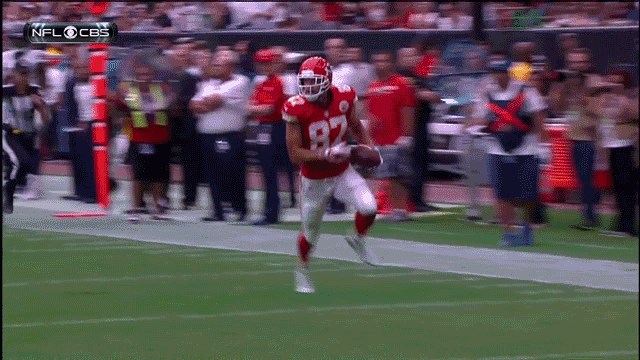 Well done, Mr. Kelce.
Hat Tip – [Deadspin]
Tags: