Manchester United's Luke Shaw Broke His Leg in Half Yesterday (Warning: Gruesome Video)
Manchester United lost their Champions League match to PSV Eindhoven on Tuesday. However, in all likelihood, none of the players or coaches really cared. They were probably much more concerned with the condition of left back Luke Shaw, who suffered a horrific double fracture of his right leg.
In the 14th minute, the 20-year-old Shaw made a nice little run inside the PSV box. There he was met by PSV's Hector Moreno, who came in for the tackle. Unfortunately that tackle, while not vicious, caught too much of Shaw's right shin, and both bones in his leg broke in half.
The play is definitely unpleasant to watch. However, we have also seen worse. Below you'll find a video and (because the video will probably go away soon) an animated GIF. Take a look if you think you can take it:
Don't watch is squeamish . luke shaw leg brake pic.twitter.com/XeVFe67Cgy

— AFC GLEN (@AFC_GLEN) September 15, 2015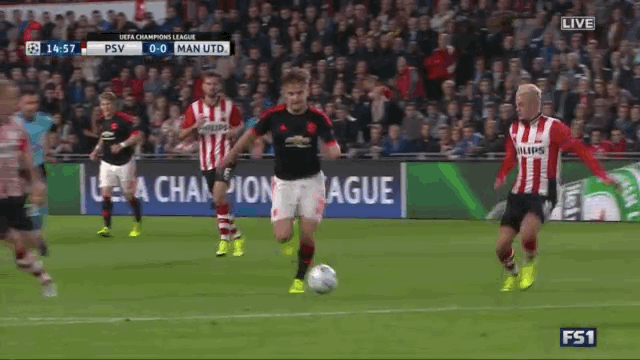 Shaw was on the ground for 10 minutes after that and had to be given oxygen while medical staff prepared to removed him from the field on a stretcher.
However, he later sent out a tweet promising to come back stronger than ever.
Thank you everyone for your messages , words can't describe how gutted I am , my road to recovery starts now, I will come back stronger.

— Luke Shaw (@LukeShaw23) September 15, 2015
Here's hoping he fulfills that prophecy.
Hat Tip – [The Independent]