"Key & Peele's" Jordan Peele Rips Carson Palmer Fine, Thinks NFL Should Adopt Hingle McCringleberry Rule (Video + GIF)
Last week, the Arizona Cardinals scored a huge 39-32 win over the division rival Seattle Seahawks, giving themselves a pretty commanding lead in the NFC West. So Cardinals quarterback Carson Palmer celebrated with two fist pumps and one little pelvic thrust.
It was pretty awesome, actually: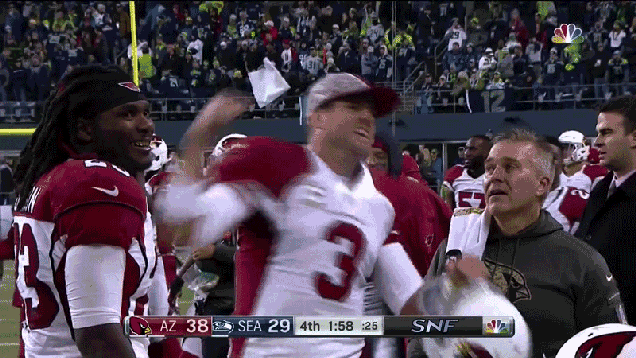 Unfortunately, while the NFL has no problem with violent criminals (so long as there's no video), they will not tolerate even one single, solitary pelvic thrust. Thus, Palmer got fined $11,576.
Of course, like most NFL fines these days, this one was met with widespread ridicule on the interwebs. However, the best reaction came from Jordan Peele of the legendary sketch comedy show Key & Peele:
Carson Palmer got fined for droppin' a single pump? What's the league coming to?!?

— Jordan Peele (@JordanPeele) November 22, 2015
In case you don't get it, when Peele talks about a "single pump," he is referring to the Hingle McCringleberry sketch, one of the funniest things Key & Peele ever did.
Take a look:
Personally, I'm with Jordan Peele. I'd love to see the NFL adopt the Hingle McCringleberry rule. I mean, obviously, it's stupid. But it still makes more sense than the NFL's rules about what constitutes a catch.
Hat Tip – [Uproxx]
Tags:
Comments