Roger Goodell Says NFL Playoff Expansion "Likely" in Near Future
You know how you're always saying it would be great if more 8-8 or 7-9 teams made the NFL playoffs every year? Well good news! Roger Goodell says the NFL is "likely" going to expand the playoffs, so your dream of watching bad teams longer may become a reality.
Of course, Goodell didn't frame the issue like that.
"[Playoff expansion] will likely happen at some point," Goodell told a group of Jaguars season ticket holders over the weekend. "But we want to be really cautious because we really like the balance we have with the importance of the regular season and the postseason."
He went on.
"It works so well right now. I think that what makes the NFL great is every game means so much. You don't ever want to lose that. You don't want to lose the fact that every regular-season game is important. Only having 12 teams qualify, which is the smallest of any of the professional leagues by far, that's a good thing for us."
Of course, if everything works so well right now, that begs the question, why mess with a good thing?
Oh, right.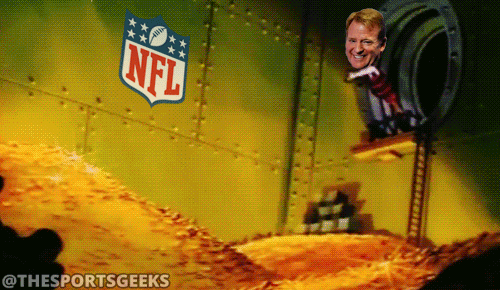 Nothing is set in stone, of course. But if the NFL does decide to expand the playoffs, they'll likely go from 12 to 14 teams. That means only one team in each conference would get a first round bye, and Wild Card Weekend would go from four games to six.
There's still a lot to figure out before the NFL can make this happen. Fitting six games into Wild Card Weekend should't be too tough. You just do three Saturday and three Sunday at 12:00, 4:30, and 9:00. The bigger hurdle will be getting the NFLPA to agree to it. Making that happen will likely involve a tradeoff—perhaps fewer pre-season games and no regular season expansion for more post-season games.
It'll all happen eventually, though. One way or another, Roger Goodell will figure it out.
Hat Tip – [CBS Sports]
Tags:
Comments