El Salvador Players Were Pinching and Biting USMNT Players Last Night (Video)
I don't know why dirty soccer players tend to bother me more than athletes from other sports. Maybe it's because they're also the first to fall to the ground, rolling in fake agony from a phantom injury as well.
Fortunately, dirty play, which included biting players and pinching nipples (yup), didn't pay off for the El Salvador squad as they lost 2-0 to the USMNT in the Gold Cup last night.
You can see the nipple-pinching, plain as day, in the gif below: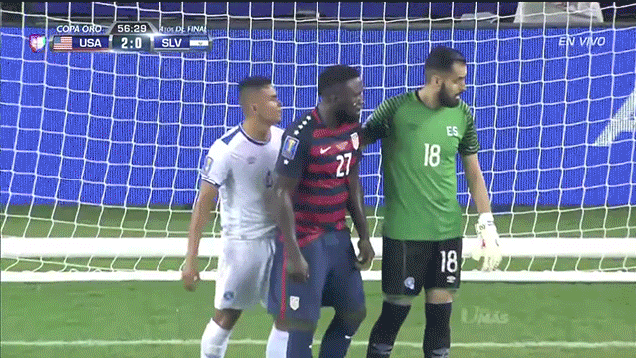 And here's the biting:
What the hell, this dude just bit Jose Altidore pic.twitter.com/ZGcrGTmKxt

— CJ Fogler (@cjzero) July 20, 2017
Joze Altidore, to his immense credit, had a sense of humor about being a lightning rod for these dirty tactics. 
Altidore: "My girl is mad at me. She's mad at me, she's mad at Romero. She's like 'Only I can bite u, only I can grab your nipples.' #usmnt — Steven Goff (@SoccerInsider) July 20, 2017
That's the spirit!
Hat Tip – [Deadspin]
Tags:
Comments