J-Lo and A-Rod Smooch on Kiss Cam at Miami-Duke Game (VIDEO)
Alex Rodriguez's streak of looking like an awkward doofus when seen in public next to a beautiful woman is still in tact!
A-Rod stepped out with his girlfriend, multiplatinum recording artist/dancer/actor/fashion designer Jennifer Lopez, in Miami on Monday night. The celebrity power couple was spotted at the Miami-Duke game in Coral Gables, Florida. And, because everybody knows how much A-Rod likes kissing, the game ops crew made sure to put them on the kiss cam.
J-Lo looked totally natural, of course, because she's J-Lo. Her boyfriend, however, somehow managed to make it look like it was his first time kissing a girl.
Take a look:
At Miami-Duke: @JLo & @AROD on "Kiss Cam." pic.twitter.com/pt4UAcHcUn

— Darren Rovell (@darrenrovell) January 16, 2018
The hilarious thing is, you know this whole thing was planned. Rodriguez is an "honorary alumnus" of the University of Miami and a major donor to the Hurricanes athletic program. They're not putting him on the kiss cam without getting his permission. And something tells me it was no accident
Darren Rovell
just happened to be recording the kiss cam segment.
So, yeah, A-Rod was probably in the bathroom practicing kissing for 20 minutes right before this, and this was the best he could do.
That said, for A-Rod this is pretty good. Remember when he went to Super Bowl XLV with Cameron Diaz?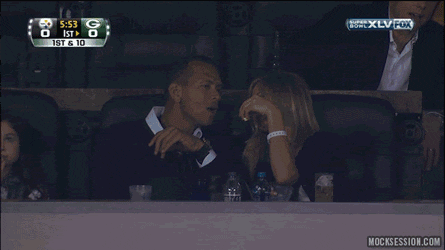 Hat Tip – [Extra Mustard]
Tags:
Comments